FracGeo provides a wide range of consulting services to E&P companies. These services cover a wide spectrum of disciplines that starts in drilling and end in reservoir simulation and reservoir management.
Geomechanical simulation driven adaptive Frac Design for Completion Optimization
Geomechanical simulation constrained Reservoir simulation for well space optimization, frac hit risk mitigation and production forecasting
Geological and natural fracture modeling for sweet spot, landing zone optimization and frac optimization
Reservoir Geophysics – Facies constrained stochastic seismic Inversion for Elastic Properties
Geomechanical logs, natural fracture index, stresses and pore pressure for frac stage and cluster design from surface drilling data
Real time Geosteering from surface drilling data into most fracable rock for completion optimization
Geomechanical simulation of produced water reinjection and Induced Seismicity Potential from fault systems
Geoscience

FracGeo workflows and software use the available data such as seismic and/or well log to build Geological and Geomechanical sweetspot models to select well location and landing zone and based on the regional stress and its interaction with natural fracture, elastic properties and pore pressure distribution apply our geomechanical simulator to determine the differential stress and resulting stress gradients that determine the asymmetric hydraulic fracture  half lengths to constrain our adaptive frac design.

Geophysics
Seismic pre-conditioning & resolution enhancement.

Seismic structural interpretation.

Spectral and volumetric seismic attributes.

AVO modeling & fluid discrimination analysis.

Post & pre-stack/AVO inversion (Deterministic & Stochastic).

Time-Depth conversion.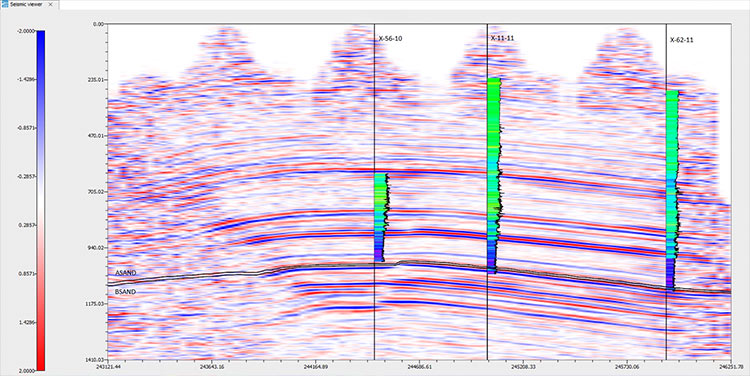 Geology
Well log editing and calibration.

Invasion correction.

Petrophysical analysis & interpretation.

Estimation of pseudo shear logs.

Log analysis for fracture proxy determination.

Petro-elastic analysis.

Rock physics analysis & integration.

Elastic properties interpretation.

Structural Framework building.

Geocellular grid building.

Facies clustering and modeling.

Reservoir properties modeling (Geostatistical methods).

Seismically guided geologic modeling using neural networks.

Seismically guided fracture modeling using neural networks.

Geobody extraction and reservoir sweet spot identification.
Geomechanics
Geomechanical estimation of differential stress in naturally fractured reservoirs.

Geomechanical estimation of reservoir strain resultant from hydraulic fracturing.

Stress Rotations.

Geohazard Interaction analysis.

Frac Stage Energy quantification (J-Integral).

Induced Seismicity Potential Evaluation.
Compute stresses and pore pressure along the wellbore and in the surrounding reservoir using surface drilling data and/or wireline logs.

Steering unconventional well using FracGeo's GMXsteering technology that relies on using surface drilling data to compute FracGeo's Corrected Mechanical Specific Energy (CMSE) which is used to compute geomechanical logs.

Use 3G derived stress gradients to simulate the geomechanical response to hydraulic fracturing.

Validate geomechanics with microseismic and other field data.

Plan asymmetric frac designs constrained by validated geomechanics.

Assess asymmetric frac designs with sensitivity analysis for completion optimization.

Estimate realistic asymmetric SRVs and export to frac design and reservoir simulation software.

Experimental design based sensitivity analysis for frac design optimization.

Adaptive frac design on stage level to optimize SRV and avoid well interference.

Forecast production and estimate reserves using asymmetric tri-linear models.

Evaluate the economics of completion strategies.
Completion and Frac Engineering
Design frac stage spacing and cluster density based on elastic properties and stress brittleness derived from surface drilling data using FracGeo's Corrected Mechanical Specific Energy (CMSE).

Frac design optimization constrained by geomechanical stress gradients.

Optimization of frac stage spacing and number of clusters based on geomechanical constraints.

Experimental design based sensitivity analysis for frac design optimization.

Adaptive frac design on stage level to optimize SRV and avoid well interference.
Reservoir Engineering
Material balance calculations.

Fluid properties correlation and PVT analysis.

Conventional and advanced decline analysis.

Pressure transient and well test analysis.

Reservoir simulation and forecasting.

Well planning and production forecast.

SRV validation and estimation with 3D reservoir simulation.
Asset Management
Predict geologic and geomechanical sweet spots.

Predict best drilling and completion strategy.

Plan optimal landing zones, frac stage density and positions, and fracing sequence.

Plan optimal well spacing for highest EUR and avoidance of frac hits and geohazards.

Produce from optimal vertical stacking.

Produce maximum reserves with lowest costs.
Business Strategy
Assess the true potential of assets.

Adapt the development strategy to commodity prices.

Affirm the value of the asset or liquidate.

Incorporate new Shale 2.0 technologies for optimized asset development.

Maximize ROI, ROR, investment efficiency (BOE/$ CAPEX).

Adopt a Risk-Reward business model.